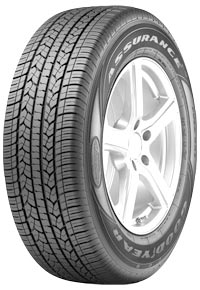 Goodyear Assurance cs Fuel Max
Key Features
Fuel-saving tread compound provides low rolling resistance, reducing energy to help save up to 2,600 mi./4,000 km worth of gas over the life of four tires.
Center wet zone provides enhanced traction in wet and light snow conditions.
Reinforced construction handles a variety of vehicle weights.
Tire design is adapted to enhance tire performance on larger CUVs and SUVs.
Dual aqua channels propel water off the tread and away from the tire.
Outer dry zone enhances handling and grip for confident maneuvering.
Cavity shape is optimized to maintain enhanced contact patch at various loads.
Vehicle Category: Light Truck/SUV
Performance Category: All Season
Contact Us About This Tire
2 Available Sizes
Size
Load/Speed Index
Run Flat?
Overall Diameter
17"
225/65R17
102H
28.50"
18"
255/65R18
111T
31.10"